Product Development
Developing a product requires the combined efforts of marketers, product designers, engineers, suppliers and manufacturers. Without proper oversight, projects can easily spin out of control costing corporations both time and money.
With full service capabilities, we provide seamless support from Product Development through Engineering Services and Manufacturing Management.
Our Product Development Services include:
Full Market Analysis
Project Management and Scheduling
Industrial & Engineering Design Services
Research and New Product Development
Product Performance Specifications and Costing
Product Evaluation & Improvements
Tooling Design
Rapid Prototyping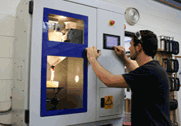 YoCGlobal's Product Development and Project Management teams can keep your project on schedule and within budget!
Whether you are looking to launch an entirely new product line or update an existing product category, our integrated team will collaborate with you to bring innovation and excitement to your products. Our experience runs deep and with global resources at our disposal, we can provide a full range of services from New Product Development (NPD) support to Design for Manufacturing (DFM).